Northwood 607, 608 47th ST SE Everett, WA 98203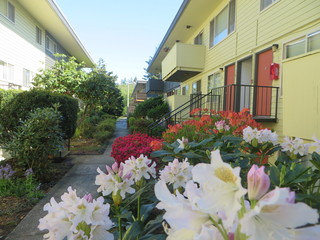 Location:
Everett, WA
The Northwood Apartments is a quiet community, next to Forest Park. Our buildings are nestled in a beautiful garden court setting and our private decks enjoy the serene views of nature. We have huge 1 and 2 bedroom units. Most of our homes have washer and dryers inside the units to save our residents time and money. For the little tikes, we offer a playground - have hours of fun right at your home.
The Northwood has a private gym for those who like to stay in excellent shape. We have a recreation room with a pool table. Garages are also available for those who love their cars or need extra storage. We have foot paths from our complex to Forest Park. Forest Park has indoor and outdoor swimming pools, huge playgrounds, a petting zoo and preschool. If you enjoy the serenity of nature, beautiful gardens and spacious living, you will love the Northwood!
Features:
Washer/Dryer
Deck
Garage
Weight Room
Recreation Room
Playground
Garden Court
Quiet Complex
Foot Paths to Forest Park
***FREE CREDIT CHECK***
Managers:
Victoria@williamsinvest.com
425-750-0672
Anahi@williamsinvest.com (Spanish)
425-551-8063
Vilma@williamsinvest.com (Spanish) 425-268-5841
Jesi@williamsinvest.com
425-319-2016
Larry@williamsinvest.com
(Sign Language) 425-343-8074
Kyle@williamsinvest.com
425-343-7394
Sarah@williamsinvest.com
425-268-1315




Williams Investments
360-651-6000

Service Type:
Real Estate
All information in this site is deemed reliable but is not guaranteed and is subject to change